In-Person Services
Sundays at 10 am
Trinity is located "on the bricks" in the part of downtown Thomasville known as The Bottom. Our street address is 325 W. Jackson, where you'll find ample street parking or you can drive down Stephens Street to access either of our two parking lots on the back. Here's a map if you need directions:
In the parking map below, the cross shows the location of Trinity, where you can park in one of our two parking lots. Additionally, parking is available at Fresenius Kidney Care, directly across the street from our Jackson Street entrance, or at a local lot on the next block ("The Bottom").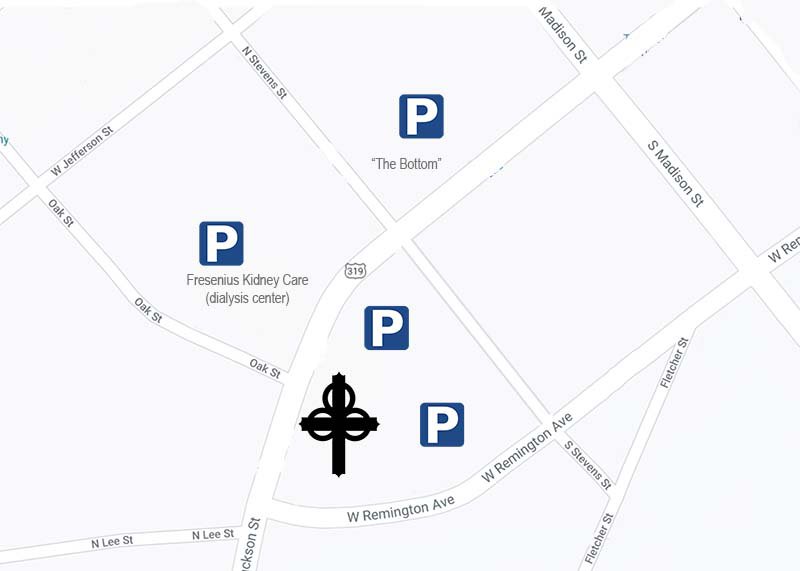 Accessibility Information
Our parking lots off Stevens Street includes accessible spaces and our porch is wheelchair-accessible. We have an elevator to access upstairs events and space inside the nave designated for wheelchairs. Please note that our Jackson Street entrances have one step up and so are not accessible for those in wheelchairs.
If you'd like to see what a typical Sunday service looks like, check out this playlist on our YouTube channel.
Our weekly service guide will help you follow along with the service of the day.
We have Children's Church for kids ages 0-5th grade and you can learn more about that here.
A sermon archive is also available on our YouTube channel, along with other teachings and videos from past events.
---
Online Services
Our services are livestreamed each Sunday morning at 10 am to YouTube. Sometimes, we have technical difficulties that are beyond our ability to control. If that happens, you should be able to access a recorded version of the sermon by Wednesday of that week on our YouTube channel. We are no longer livestreaming concurrently to Facebook because of bandwidth limitations.
If this is your first time worshiping at Trinity, we would love to connect with you! Please fill out the card below. We promise not to spam you, but we'd love to meet you.